Description
Struggling of having a romantic dinner in your backyard?, or Having a nice BBQ aside from the moonlight and you can barely see your food?
These Patio LED Umbrella Light is the best solution of all your problems! No more suffering from darkness during a nice BBQ party.
Features:
Energy-Saving and Bright

Multiple Functions

Requires 4 AA Batteries (Not Included)

3 Different Lighting Modes

Specification:
| Dimension: | 6.3 x 6.3 x 1.1 Inches |
| --- | --- |
| Batteries: | 4 AA Batteries Required |
| Height: | 1.1 Inches |
| Length: | 6.3 Inches |
| Width: | 6.3 Inches |
| Color: | Cool White |
| Shape: | Circular |
| Voltage: | 6 Volts |
| Modes: | 3 - Lighting Modes |
| Power Source: | Battery-Powered |
| Switch Style: | Push Botton |
| Batteries Included? | No |
| Type of Bulb: | LED |
| Luminous Flux: | 220 |
| Wattage: | 3.5 Watts |
| Package Components: | 1 x LED Umbrella Light |
Customer Reviews
Well made and you can vary the illumination
This light is very bright if you face the LEDs toward the table. And it gently illuminates the underside of a patio umbrella if the LEDs are faced up and at its highest power. Holds well to a wooden umbrella pole and is very easy to operate the latch that allows you to remove or install the light onto the pole. Batteries last a good long time in this light. Highly recommended.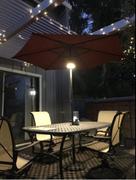 Love both color options!
I originally ordered this light in the ??cool white?? option and I loved it! However all of my solar lights have more of a warm tone to them and I??ve recently added two more seating areas with umbrellas so I ordered three in the ??warm white?? option. I think for my particular needs, the warm looks better, but both give off EXCELLENT lighting. They take 4 AA batteries each, which are easy to install and the light itself is easy to install, as well. There are spring-loaded grips on the inside of the hole so no matter what size the umbrella pole is, the light should fit. The card that comes with the packaging said there??s a 365 day warranty on them, so that??s good. I have had the original light since March (for future readers: it??s June, now) and I??ve used it many times and never had issues with it and I have not needed to change the batteries, yet. I have included pictures with the ??cool white?? and the ??warm white?? options, so hopefully that will help you decide which might be best for your needs.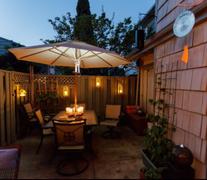 Bright, Useful, Versatile, 5 Stars!
The center umbrella light is awesome! As described, a no-brainer to install or use, it is very bright and arrived in a day. I can place the Light low and easily illuminate the entire table, or raise it high and illuminate an area outside the umbrella. Can also be used in a multitude of necessary or creative ways! Very bright and has really improved my evening entertaining.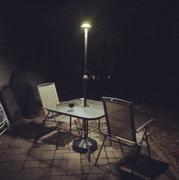 Who needs a porch light when you can have the perfect lighting where the action is?
it does a beautiful job lighting up our deck table nice and evenly! In the picture, it is the only light on. If i turned it off it would be pitch black out there. The picture is the light at its brightest setting as well. Very pleased with it! Hopefully it lasts.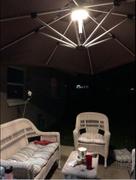 pleasantly surprised
So, long story short I ended up buying an umbrella for my patio, and while I was shopping I stumbled upon this umbrella light, since I noticed some umbrellas had preinstalled lights in the frame. I bought the light just to try it out, so I didn't always have to have my bright porch light on if I'm out there. So far I've had it a few weeks, and it is super amazing. I can have a centralized light if people sit outside, the different settings are super helpful (I mostly use the 2nd setting, just the perfect amount of light). And plus, when I'm done with the umbrella, I can shimmy the light down to the middle and it'll fit just enough for the umbrella to be fastened closed. Highly recommend!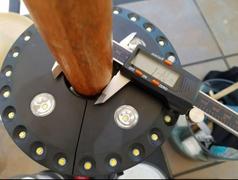 Great Powerful Light
I purchased this light so I could do work outside in the wee hours of the night. There is no other light except from a couple of tiki torches. This light is powerful and was just what I was looking for. The first picute is the brightest setting, the second is the lowest, the third picture is the medium setting, and the fourth picture is also the medium setting. I'll add one more pictures of the highest setting. I thought that it attracts bugs but I don't think that it does. If the picture comes out well, in the last picture you can see that if you don't look indirectly look at the light it's yellow. I purchased the warm glow.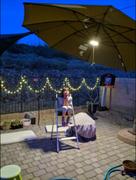 A Great Light For The Price!!
This is a great reasonably priced light for use under my patio umbrella! Simple to install and lights up the area very well at night. Photo shows all 28 lights lit up which is the brightest setting. Easy to read, enjoy dinner or play a family game by. As noted by another reviewer, in order to release the light fixture to remove you slide the lever versus pressing it.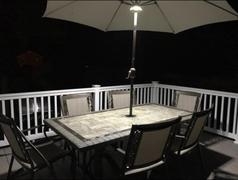 AMAZING 100% RECOMEND
100% recommend!!! Plus excellent service, everything you need to know for your product to work perfectly.
Wonderful
Would recommend this without hesitation.
Five Stars
These are GREAT! And great buying experience
FABULOUS PRODUCT!
Well worth the money.
Works very well
Works very well
Worthy Purchase!
Great product! Great price!
WOW! Customer service can??t be beat!
My husband contacted the company through their facebook page and they are sending us another one. The customer service is AWESOME!!! Hopefully the second one works. :) Thank you