Description
●UPGRADED FILTRATION:
  Our solar fountain added a filter which
  can efficiently block dirt, leaves, dust to
  prevent blockage, which make the pump
  easy to clean and extend the use time.

●SOLAR POWERED:
  This solar powered water pump for fountain runs automatically by solar
  no battery or electricity needed. Fountain
  will start automatically in 3 seconds once
  exposed in sufficient sunlight. An ideal pump
  for birdbath, small pond, fish tank and
  water circulation for oxygen

●4 DIFFERENT SPRAY HEADS:
  Our birdbath fountain comes with attachments
  and 4 different sprinkle heads to pump
  different water flows. It is not only to attract
  birds to drink in your birdbath, but also to
  add fun to your children while playing in the pool
●LONG LIFE TIME:
  The solar birdbath fountain has more than
  10,000 Hours of service life. The solar water
  fountain pump has a built-in brushless
  motor that provides a longer service life
  and lower energy consumption.

●KIND NOTE:
  Solar panel must be fully exposed to sunlight,
  not any part of it can be shaded, or the pump
  will not work.
Specification:
Package Dimension:

7.4 x 7.3 x 1.8 Inches

Weight:

12 Ounces

Batteries:

1 Lithium Polymer batteries required. (included)

Package Component:

1 x Solar Fountain





6 x Nozzles





1 x Connection head





1 x Adapter





1 x User Manual
OUR GUARANTEE :
Customer Reviews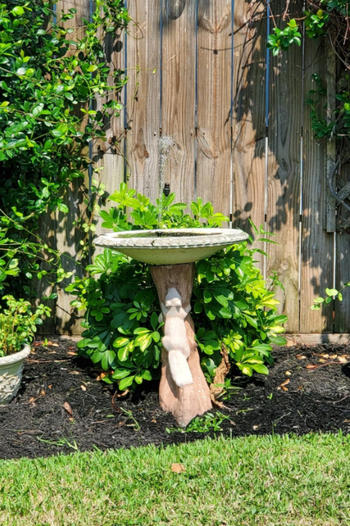 11/11/2020
Works perfect
I bought this hoping itll keep the algae growing in my birdbath. Its got a few different tips so I use a smaller one than in photo, birds have loved it!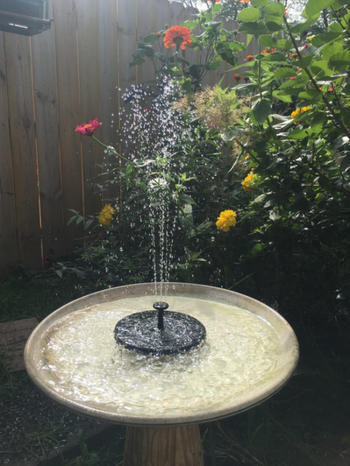 10/05/2020
Works well, good design
There is a lot to like about this little solar fountain. Its well designed and from an engineering standpoint, its made to work well under sunny and cloudy conditions.
12/05/2020
I would buy again
I love love love these lights. Ive received so many compliments on them.