Description
| Motion Sensor | Outdoor Light | Illumination | Convenience |
These solar motion sensor wall light is the best idea for decorating your garden/backyard/Aisle
solar-powered security lights with motion sensors for outdoor illumination
solar panels store electricity during the day

120 degree motion detection range and sensor length of 6m ; 1800 mAh rechargable lithium ion battery provides backup on overcast days
High efficiency solar panel

The solar motion sensor light how it works?
Here is how.
Waterproof rating ensures the security light can withstand rain, sleet, or snow

Easy to install on exterior walls with no wiring necessary; place solar panel in a sunny spot for optimal performance
Features:
Easy Installation

Weather Resistant: No wiring required

Eco-Friendly: With solar energy work up to 8 hours if fully charged

Water-proof for any weather condition

Specification:
LED:
40LED Lights
Battery:
3*AA
Weight:
300g
Size:
6M

Material:
Plastic, ABS
Package Components:
1 x Snowflake String Light
1 x Remote control
Customer Reviews
Bright and good motion detection
I would like recommend this solar motion sensor light because it make me feel safe and it is very bright in dark night when I need pass by my backyard to my house and it is waterproof and no need electricity and battery and the motion detection very sensitive . With the pic I post , You can see how bright it is compared with the regular solar light .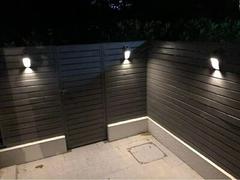 happy to buy
Very high quality
Great product
Loved them so much I bought more! Great value and quality. Light color is nice, not too bright, soft. Love them!!!
Happy
My parents love it. It was very dark on their street and knowing they are not in the dark and notice movement makes them feel ain't security while adding the pretty reflection and design of the lights.
Amazing
Great product and great customer service. Had these things for a while and they work great, nice and bright
great little lights
These are the brightest solar lights i have ever seen. very solid and easy to hang.
Look great!
I had an issue with the light but they help me and give me the opportunity to get a new ones. The lights are working good.
Excellent!
Super easy to install. Light weighted. We use one on the front porch and the other on the garage door. The detection is very sensitive.
Love it.
Great lights!! And great customer service. I contact customer care for light issue and they help me troubleshoot it and when things didnt get solved. Now I am going to be buying all kinds of light from these guys when I need it. 100% Recommend !!
Bright Light from Sustainable Solar Source
I've always wanted a sustainable solution for outdoor lighting. These lamps are pretty darn light, easy to put together, and project substantial lighting! They also has a built-in motion detectors which are ingenious! Highly recommend this product for anyone who's looking for a sustainable and smart solution for an outdoor setting!
great product
Terrific product; arrived ready to use and has performed flawlessly.
Super Bright and easy to install
these solar motion lights are some of the best we have ever used.. Easy installation and are super bright. Charge super fast and they stay on a long time... Detects motion really well.. great path lights or security lights... we will buy more !