Description
Elegant and vintage feel in one product! Bring these Solar Flame Lantern to your garden and stand out from your neighbors. They will give a soft warm light that looks like solar torch lights with flickering flame but without the hassle of fire risks.


Features:

Made from ABS Plastic

Charging Time: 20 hours

Working Time: 20 Hours after Fully Charged

Eco-Friendly

Wireless

Solar-Powered

Hassel-Free

Perfect for outdoor decoration lightings such as Garden, Backyard, Porch, Outdoor Parties and Weddings
Specification:
Product Size:

31in / 78cm,




Width: 4.5in / 11.5cm

Product Weight:

12.7oz / 360g

Package Component:

1 x Solar Powered Flame Torch Lamp
1 x Extension Stake
Customer Reviews
best solar lights Ive bought.
I bought these lights to put on my back yard fence. I already have some solar lights on my pergola. These work great. not only are they attractive to look at when in daylight, they are stunning at night. They have a very warm glow and flicker to look more like a real flame and are a reddish yellowing color. Very lifelike. I am particularly impressed with the long battery life after charging. If these lights get direct sun for 6-8 hours a day they will run all night. My other solar lights on the pergola get sun the same amount of time but will run from about 8:30 at night till about 12:30 or maybe 1AM. These lights by contrast run until it gets light in the morning. I now have solar lights running all night long. Im very happy with here lights. They also come with lances to stab them in the ground and anchors to mount on a vertices post or an outside wall. Buy with confidense!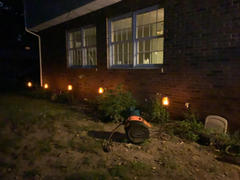 Lights up with life like flames and creates a beautiful ambiance
I miss Hawaii and have been trying to recreate that feeling in my backyard. These solar torches really help. They are so easy to assemble and stick in the ground around my garden. They also have the option of installing in the wall. They really make the ambiance so nice and magical with the life like flame. They started working right away when I turned them on. They really look like real flames! So much easier to care for though. They turn on automatically at dusk and stay lit for a few hours so we can enjoy them every evening.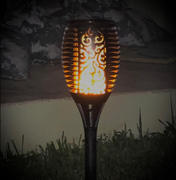 Perfect outdoor lights
Awesome lights. They look like real flames. They stay lit for hours after being fully charged. They are easy to install. I like the two different types of mounting. Very relaxing to just sit and watch them. I put them in my back yard to kick back and watch them. They don't put off light for security. If thats what you need them for this is not the right one. I have had a lot of compliments on them. Great when you are entertaining people. Best part is there are no wires to install and its SOLAR. They don't charge when over cast.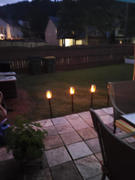 Works great unless cloudy
These torches are so great. I kept missing my driveway so I keep needing to buy torches to light up the path. These work really well and are really easy to put together. The only thing that isnt perfect is that when its cloudy one day it doesnt charge the solar panel so they wont be as bright that night. Other then that these work well and hold up for a long time.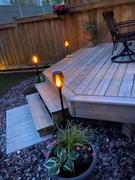 Very nice for night swimming
These worked out really well. I installed them on the fence around our pool area. They come on at night when it gets dark and they charge up during the day. I'm not sure how long the battery lasts because they are usually still lit when we go to bed since it gets dark so late in the summer. They have a nice simulated flame that looks somewhat like fire.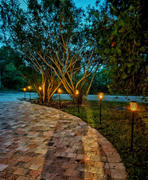 Wonderful atmosphere
I surrounded my patio with these torches and they provide a wonderful, warm glow. They are realistic-looking flames with a random pattern. I am very happy with the effect. I ordered some in blue for a special corner and I love them, too. They are east to assemble and have enough sections per pole to provide varying heights.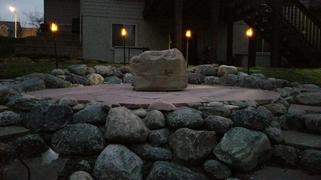 01/14/2021
Bernard S.

Australia
Faulty poor quality items
These items are obviously cheap rubbish, having bought three less than a month ago, only one is still working, they are contributing to land fill!!!
good
It has worked without issue
A Great purchase
it looks like a really good product!
Easy assembly and durable plastic. Not the low end weak plastic that bends or breaks!
I put these around my patio and they look awesome! They all light up almost at the same time and look beautiful! The flames inside look real! They have a beautiful glow. Just what I wanted. Very pleased!
Great
It��s just beautiful my baby love it
so far so good
Customer service is great will buy more
great product
love them just as shown
this works good
It really works as advertised. Worth it