Solar-Powered Dangling Hummingbird Lights
Sale price

$24.99
Regular price

$32.99
Save 24%
Back to top
Description
Magical hummingbird solar garden lights that give yours backyard an amazing environment , Unique water-proof design. Ideal decorating for your porch or backyard. Hang these Solar-Powered Dangling Hummingbird Lights and watch them light up at night.
Important: Make sure solar panel is not covered
Features:

6 Colorful Hummingbirds

Solar-Powered

Rain /  Water Proof

Multi-color Design

LED Lights

Durable and Resistant
Specification:
| Battery: | 600mAh |
| --- | --- |
| Working time: | 8-10 hours |
| Charging time: | 6-8 hours |
| Waterproof grade: | IP65 |
| Main material: | plastic |
| Product size: | 75*12.5cm |
| Color: | Multicolor |
| Product Components: | 1 x Solar-Powered Dangling Hummingbird Lights |
OUR GUARANTEE :
Customer Reviews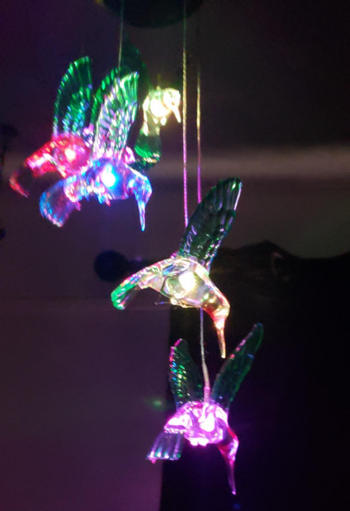 11/20/2020
Well made beautiful garden feature
Im passionate about humming birds and wanted this solar light/chime to add to my garden collection. They arrived in two days and I hung them next to my hummingbird feeder. Its lovely at night to watch the multiple colors as they change. Since they are of a good quality plastic they don't make your typical chime sounds which is great for me. I live and work in a campground so a traditional chime is out. This morning a baby hummingbird checked each of the six birds and gave it 5 stars.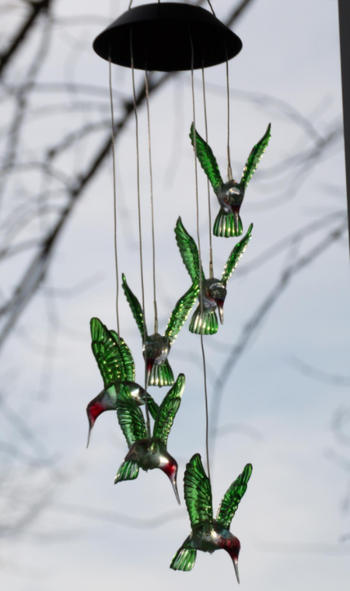 11/18/2020
his is gorgeous in day or night
The strings are covered in plastic so they do not rot in weather. The colors at night are WAY more awesome than i thought!!! More colors than I thought. You can hear them in wind, no problems there. Awesome!!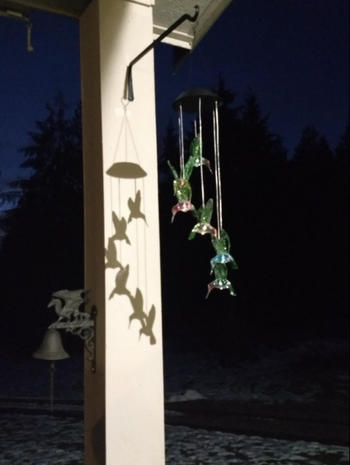 10/28/2020
You will like this product!
I had no reason to contact the seller. The item was even nicer than pictured or described and was delivered on time. I purchased this as one of many little "stocking stuffer" gifts to give my wife for Christmas. But, after opening the box to see how it looked and if it was damaged in shipping, etc., I immediately decided to hang it outside our breakfast nook windows. When she gets up for her pre-dawn morning coffee or has her tea before retiring at night, I have no doubt that she will enjoy the Hummingbird Wind Chime.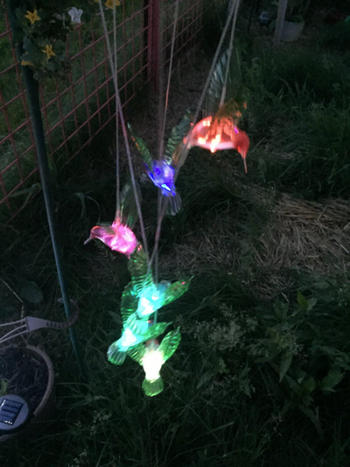 09/10/2020
Love it!
I purchased this again as another gift. Both of the people loved it. I am surprised it is as nice as they are raving about as it was not expensive. They said it is absolutely beautiful and at night the colors change and it is gorgeous. These 2 people have very good taste and very nice furniture, homes etc. Very happy I bought these
12/05/2020
Very Stylish Daytime and bright night light
Gives bright light after a quick charge. I set the lights up in the walkway in the backyard. After a day of charging the walkway looked bright and enjoyable to watch in the evening.