Description
Magical hummingbird solar garden lights that give yours backyard an amazing environment , Unique water-proof design. Ideal decorating for your porch or backyard. Hang these Solar-Powered Dangling Hummingbird Lights and watch them light up at night.
Important: Make sure solar panel is not covered
Features:

6 Colorful Hummingbirds

Solar-Powered

Rain /  Water Proof

Multi-color Design

LED Lights

Durable and Resistant
Specification:
| Battery: | 600mAh |
| --- | --- |
| Working time: | 8-10 hours |
| Charging time: | 6-8 hours |
| Waterproof grade: | IP65 |
| Main material: | plastic |
| Product size: | 75*12.5cm |
| Color: | Multicolor |
| Product Components: | 1 x Solar-Powered Dangling Hummingbird Lights |
Customer Reviews
Well made beautiful garden feature
Im passionate about humming birds and wanted this solar light/chime to add to my garden collection. They arrived in two days and I hung them next to my hummingbird feeder. Its lovely at night to watch the multiple colors as they change. Since they are of a good quality plastic they don't make your typical chime sounds which is great for me. I live and work in a campground so a traditional chime is out. This morning a baby hummingbird checked each of the six birds and gave it 5 stars.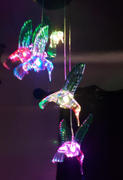 You will like this product!
I had no reason to contact the seller. The item was even nicer than pictured or described and was delivered on time. I purchased this as one of many little "stocking stuffer" gifts to give my wife for Christmas. But, after opening the box to see how it looked and if it was damaged in shipping, etc., I immediately decided to hang it outside our breakfast nook windows. When she gets up for her pre-dawn morning coffee or has her tea before retiring at night, I have no doubt that she will enjoy the Hummingbird Wind Chime.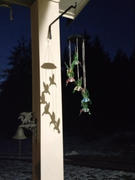 Love it!
I purchased this again as another gift. Both of the people loved it. I am surprised it is as nice as they are raving about as it was not expensive. They said it is absolutely beautiful and at night the colors change and it is gorgeous. These 2 people have very good taste and very nice furniture, homes etc. Very happy I bought these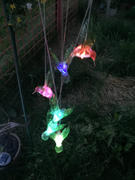 Very Stylish Daytime and bright night light
Gives bright light after a quick charge. I set the lights up in the walkway in the backyard. After a day of charging the walkway looked bright and enjoyable to watch in the evening.
nice customer service
Great product with a great price
Great quality
Just purchased a second set. Well made, very bright. Very happy with this purchase.
Very pretty lighting - Good customer service
The product produces very pretty lighting with continually changing colors. The solar aspect works good with the charge lasting quite a few hours. Great customer service. I ordered two of these with one of six h-birds not lighting on one of the two units. I contacted customer service who immediately provided a replacement with other argument. The other works good and has been going for many months. Would buy again!
Great product
This is my second time purchase. My first purchase was an year ago. They works so great, So I got this new one. So far it works great.
Exactly what I was looking for
This item arrived nicely packaged -- there was styrofoam in the bottom of the small box to protect the fragile parts of the hummingbirds. It also came with a spinner hook, which was a nice touch that I have since learned I can't expect from other sellers of similar items. It did light up very nicely the first night. I do not have it hung somewhere where it gets a lot of direct sunlight, but I didn't order it for the light show. It still tried to light up each night, but without the direct sun, it doesn't have the power to do so. Clearly, though, that aspect of the product is still functioning.
Good product
Great product and great customer service. Had these things for a while and they work great, nice and bright
Very pleased
Ive had these before but it was time to replace. I like that even during the daytime these make a nice addition to the yard as the birds have some color. At night, very pretty to watch the changing colors. This set is nice and bright and stays lit for hours. I also received it earlier than promised--very pleased with this seller.
Satisfied customer
Have had these for a week and so far extremely happy with them. Very bright for a solar light.
great solar lights
We live in wooded area. First set of solar lights that I ordered from a different company did not work at the area that I wanted to place them in. So I moved them to more sunny spot. I was skeptical about these lights from Flalivi , but decided to give them a chance. They work beautifully without that much direct sun. I enjoy looking at these solar lights in the late evening. They are bright enough to see the road. Glad I ordered them.
Works perfect
As soon as I got it, I left it on the sun to charge, by the evening they were brightly shining. Safe energy and money. Very happy on the purchase, Great addition to out landscape. We can rearrange them if we want to change the spot. Wireless, problem free!!!
So far so good...and bright!
Great lights! They charged well and are very bright. Only the first night using them, and will update review if needed but so far so good!!