Solar Powered Handmade Artificial Lily LED Lights
Sale price

$25.99
Regular price

$39.99
Save 35%
Back to top
Description
Maintaining flowers are tiring sometimes, why not change it into solar powered lily flower lights that automatically glow at night while charging through solar power at day time?
Features:
Artificial lily with solar powered LED lights
Easy installation
Energy Saving
On/Off button to decide whenever you want it to turn on at night
Specifications:
Color of LED:
Cool White
Color of Product:
Blue or White or Red or Purple
Waterproof Class:
IP65
Material:
ABS + Stainless Steel
Total Length After Installed:
80cm/31.5inches
Package Component:
1x Solar Powered Handmade Artificial Blue Lily LED Lights
or
1x Solar Powered Handmade Artificial White Lily LED Lights
or
1x Solar Powered Handmade Artificial Red Lily LED Lights
or
1x Solar Powered Handmade Artificial Purple Lily LED Lights
OUR GUARANTEE :
Customer Reviews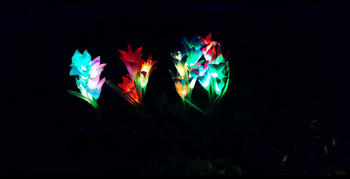 12/01/2020
Beautiful
If youre on the fence about purchasing these, then dont hesitate, youll love them. The beauty of this product comes through at night when the lights fade in and fade out.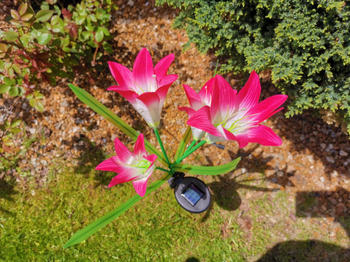 10/26/2020
They look great on and off!
I forgot during the day it would be pretty too! During the day when the LEDs are off and charging, the flowers all by themselves are beautiful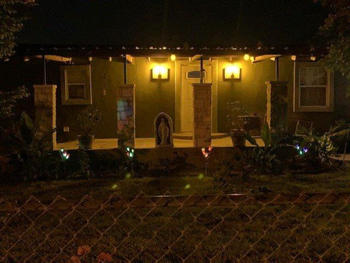 05/24/2020
Absolutely Beautiful
Theses Lily are a must have in your yard, beautiful colors and very bright.
12/05/2020
Beautiful appearance, energy saving and environmental protection
This decorative light is very good, put in the yard of the home, it is solar energy, very environmentally friendly, do not need to be connected to the power, absorb solar energy during the day, can be lit at night, very easy to use.The light is also very perfect, the appearance is also beautiful, a very good decorative light, put at home there can be, especially beautiful, recommend everyone to buy, really very good, very like.