Description
The Christmas Snowflake String lights can be applied both indoor and outdoor, like Christmas tree, bedroom, dormitory, bar, window, fence, galleries, patio, porch, or pergola, or even as a snowflake curtain lights they can add the perfect ambience to any space.

Build-in and remote capable timer function:

if you turn it on under 6 hours timer mode at 6 pm, it will turn off at 12 pm and turn it on again 6 pm the next day; You can choose 8 styles flicker mode and control the intensity of light by dimming the light or on the contrary, rang of remote control is around 15 meters

Safe and convenient:
Features:
Waterproof

Safety & Flexible Decoration

Unique Design

Low heat and Low power consumption
Specification:
LED:
40LED Lights
Battery:
3*AA
Weight:
300g
Size:
6M

Material:
Plastic, ABS
Package Components:
1 x Snowflake String Light
1 x Remote control
Customer Reviews
Highly recommended
I picked these to match the snowflakes vinyl stick ons i put on my windows. It perfectly matches the theme! Set up was easy enough, arrived packaged well & can be unraveled slowly so you won??t have to deal with tangling. No broken bulb/led light and can be controlled using the control/battery box and the remote control. The remote control is small and cute, works very well too. It??s beautiful at night but also unobtrusive during the day since the wires are clear. It doesn??t look messy. Definitely happy with this purchase, I highly recommend!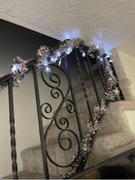 Very nice holiday or winter light set!
Product arrived quickly without any damage. Very pretty, battery-powered snowflake light set. Comes with a remote and multiple light pattern choices. The light is very white and ice like, not a warm light, which is great but might be something you'll want to consider if your other lights are warmer white/yellowish. So far, it has survived our house pretty well. Seems pretty durable. My only comment on this light set is that the snowflakes tangle very easily. I would just get them all separated, and they'd have retangled themselves...so be patient! Otherwise, very nice product and great value!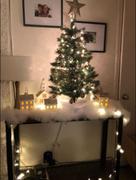 Works every time
This gadget is very handy and an excellent product! Definitely worth the moneys, for the most part it did the job.
100% worth every penny !!!
good product!
An absolute brilliant invention
This is the best invention ever. Love it. Wish I had discovered this sooner.
Great Purchase!
10/10 would recommend
Very good product
Seems pretty good!
It did an excellent job.
Amazed at how well this works! As opposed to some other things that I tried. Very useful.
This company's customer service is one of the best I have ever seen!
This is a company that you can be 100% you will be satisfied with.
I??d buy again in a heartbeat!
This product is a total ??. It did exactly what it said it would do & then some. Simple, fast & effectively got the job done. I recommend it with a five star +.
Great product!
Definitely a great purchase
Works as expected
I would definitely recommend!
Yes! Snowflake lights!
This set of snowflake-shaped lights is so cute! I did not put them on my Christmas tree. I placed them casually on top of a china cabinet and they add cute lighting to the room. I live in Michigan, where we have long winters, and I love snow. These provide not just Christmas decor, but enjoyment all winter. I love them! Great buy!