Description
Includes 8 tubes of LED lights with an extension plug at the end for easy connection of multiple sets.
Turn your garden into a secret magical place with Snowfall led Lights, Latest design.
Watch them fall down like real-life snow and sparkle up the night with snowfall meteor lights
Features:
High Quality: Lifetime duration over 60000 hours.

IP65 Water-proof rain and snow resistant,

It can be used as one, or be connected (as much as 5 string lights)

Can be used for any occasion such as Christmas, Halloween, New Year, Wedding, Parties or your garden.
Specifications:
Length:
330cm / 10.83ft
Diameter of Each Tube:
1.1cm / 0.43inch
Height of Each Tube:
32cm / 12.60inch
Product Weight:
159g / 5.6oz
Product Color:
White
Plug:
US Plug / Type A: 110V, AU/NZ PLUG/ TYPE I: 230V, EU PLUG/ TYPE C: 220VUK PLUG/TYPE G: 230V
Light Color:
White / Multi-Color / Blue
Package Component:
8 x LED Light Tubes,
1 x AC Adapter with Extension Cord
Customer Reviews
Unique, bright decorative lights that move!
I got the blue, and love them. Each light on the strand descends at different times, so they look more like real rain or meteors. They are also very bright, lightweight, and easy to hang. If needed, I would definitely get more and have already recommended them to several people. Great price for unique lights, as well!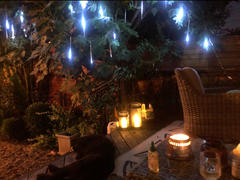 Beautiful, easy to install lights!
These icicle LED lights are fantastic, and exactly what I was looking for my apartment as Christmas lights. I connected two sets to light up the windows of my apartment and couldn't be happier. Lights worked immediately after plugging in; no damage, and the lights themselves are bright and colorful (blue in my case). Highly Recommended!!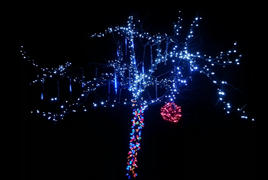 Amazing lights! Amazing customer service!
These lights are the best!! I bought several sets and couldn't be happier. I received many compliments on my front yard display. They're very bright and can even be seen behind leaves when hanging inside of the tree. I now have 8 sets of these lights connected together and am very happy with how they look and function. Their customer service is abosultely the BEST as well! Can't go wrong buying this product :)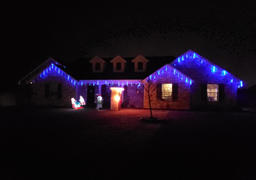 11/29/2020
Donald E. Ellis
Get them!
VERY GOOD PRICE, beautiful. They're almost too bright! They look great and feel sturdy/will tolerate weather and temp changes. I live in an apartment complex and wanted it to look like it was 'snowing' on my balcony and its beautiful. When not xmas season it could be seen as falling stars.good quality product.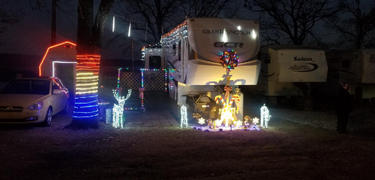 Christmas Star
Before I begin the review, let me state that I am using this inside .they all worked perfectly when I plugged them in. They spread out pretty nicely and have a long connection cable, so you can really play around with positioning them and not have to worry about hanging up an extension cord. They look really cool when they are on. I have them posted behind my Christmas tree and they really give off a Christmas feel. Everyone has loved them and I will be ordering more.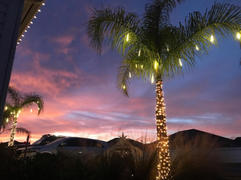 Very Pretty
Product was delivered on time and in working order. I like blue Christmas lights and the fact that these act like a meteor shower makes for a very pretty display. The lights are bright too. I would buy them again. I plan on hanging them along the front of my RV camper w/ blue icycle lights strung along the side gutters, and luminary bags on the ground---should look very Christmasy.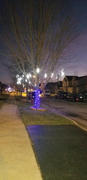 Great lights at a great price!
I threw them up quickly on the inside of a window and they work great! Really impressed with the fading pattern and how relatively inexpensive they were. All strands 100% functional. I've always loved these kind of lights, so I'm glad I finally bought them. Next time I'll try to be a bit more creative ...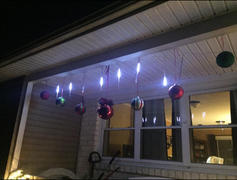 We love these lights!
These lights are pretty awesome. The light tubes are about 12 inches apart and keep the lights perfectly straight.. The power cord was super long to plug in anywhere and the ends can be uncapped to facilitate plugging more than one in series. There is a slight delay on each tube that makes them run out of sync which is PERFECT! We hung these inside our bay window to match the outdoor blue lights we have up for Christmas. We will definitely buy more of these!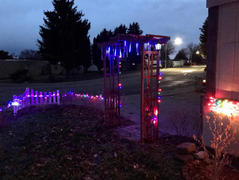 Bright at night
These are awesome bright lights. I was very pleased, works great. I did a lot of research and these met and exceeded my expectations.
12/05/2020
Tricia C. Walters
Repeat purchase!
Terrific product; arrived ready to use and has performed flawlessly.
Great
There are so cute and work perfect
great product!
I had an issue with the light but they help me and give me the opportunity to get a new ones. The lights are working good.