180° Rotating Motion Sensor LED Night Light
Sale price

$29.99
Regular price

$49.99
Save 40%
Back to top
Description
360° Rotating LED Night Light, the lamp body and the base can be separated, as long as the lamp body is removed, it is simple and convenient. You can see your route in the dark without turning on other lights.
These are the best indoor motion sensor night light for bedroom
Features:
Rechargeable USB Plug,
360° Rotating Function,
Elegant and compact design,
Suitable for family places, corridors, holidays etc...
Specification:

Fixture Features

Motion-Sensor

Type of Bulb




LED




Working Time:

8 - 10 hours

Charging Time:

1-2 hours

Power Source

Battery-powered / USB

Package Component:

1 x 360° Rotating LED Night Light
1 x Manual
1 x USB Cable Charger
Customer Reviews
Handy little lights - great deal for the price
We got these for use on our boat as we have to enter the boat often in the dark and it's nice to have a motion sensing light that will turn on at the power panel so that we can see the switches. We ended up only needing two of them, so my wife gave one to her mother for her pantry so that it would turn on as the door is opened. The motion sensor isn't terribly sensitive, especially if you have the light turned away from the motion - pointing at the electrical panel, for example, and not aiming at the steps we would be descending as we enter the boat - but it is sensitive enough to not be useless. We can just put a hand over it if it doesn't sense us - we don't have to fumble for the little switch. The magnetic feature is handy if we need the light to go with us for some reason - like a flashlight.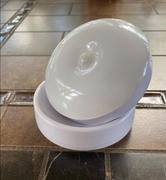 Highly recommend for night light
Installed on the wall next to the toilet so we dont have to turn on the light when we get up in the middle of the night to go to the bathroom. I love that the direction of the light can be directed to where you need it. So its directed towards the toilet and doesnt hit our eyes. The warm glow of the light doesnt shock the eyes making it hard to see during the night. The light shuts off in a timely manor. The battery lasts for a while perhaps 2 weeks. Easy to recharge and put back on the base.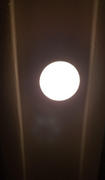 Lights up well!
I absolutely love this product. I have a small closet and at night time it gets VERY dark. I love the activation with motion (also has a manual option for on and off) because my closet is small it lights up very well. I love how the base sticks to the wall and when needed to charge you just remove (like a magnet) the lamp part. It also rotates to different angles.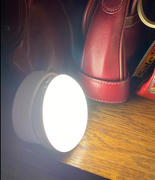 works great
Works great! We wanted them for the storage area of our RV and they work great. Best of all, all we have to do is plug them in to a USB port to recharge. No worrying about having batteries.
Love these!
Wanted lights to put in my shower versus installing a light above the shower. These are awesome. Love that they are dimmable and can be charged with a charger versus using a bunch of batteries! Lights up my shower very well, just what I was looking for!
very impressed
This is just what i wanted. Works great and great value for money
love it!
Great product at a great price
very impressed
This is just what i wanted. Works great and great value for money
love it!
Great product at a great price
Works great for lithograms
Use these for lithogtams I 3d print. They work perfectly
GOOD Light Product for Closets.
The light is GREAT. It gives light where I need in the closets. I have not noticed motion detection. I would only want more light for larger spaces. I plan to purchase more!