Description
This product allows you to stick the RGB LED Strip Light to stick it anywhere you like! Press the button on the control to change the color of the light.

Size Guide:

Bed Frame - 1 Unit

Standard Bathroom - 1 Unit

Standard Living Room - 3 Units

Standard Kitchen - 2 Units

Home Theater - 4 Units

T.V. or Computer - 1 Unit

Standard Bedroom - 2-3 Units
 | Bedroom | Home Decoration | Bar | Kitchen |
Features:
Low light intensity and lower power consumption

4 Different Flash Modes

16 Color Options Including 3 single colors (Red, Green, Blue) and 13 Mixed colors

Water-Proof Silicon Surface

Durable Material

Easy Installation
Specifications:
Number of Lights:

150 RGB LED




300 RGB LED




600 RGB LED

Product Size:

16.4ft / 32.8ft / 65.6ft

Product Weight:

1 KG

Power Source:

Corded Electric

Color:

Multicolor

Package Components:

1 x RGB LED Strip Light
Customer Reviews
Great product, amazing color choices, easy to use!
LOVE these lights!!! First off the color is amazing!! I also like that I have the ability to choose a color whether its from the remote itself or via the app on my phone. I also like how you can change the brightness level or the function of the lights to respond to music playing, my daughter lived that part, as we put these in her bedroom. I feel like these would be a great addition to any room in your home, and I definitely plan on buying more not only for my house but my camper as well. Super awesome product!!!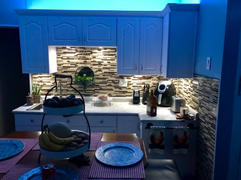 Very impressed
Not disappointed with these lights at all. I did have a little trouble getting the different strands to work initially, however. Once I hooked them up correctly they worked perfectly. You can have 4 different lines or connect them together to make one extra long one. I was able to go all the way around my bedroom with some left over. I really enjoy the setting that flashes to the beat of music. simple and works with no problems. I will definitely be buying more for my kids rooms!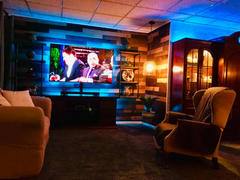 Bright and strong adhesive.
I purchased these lights to decorate my house and all I can say is wow! These lights are very bright and provide a nice ambiance to my living room. . The app makes it super convenient to change the color of the lights and to set up a schedule. Apart from displaying a single color the lights have many different modes, but my favorite one was the music sync mode where it changes the color based on the beat. It provides for a very cool effect when I have music playing. Overall I'm happy with my purchase and I think these lights make a great addition to my house.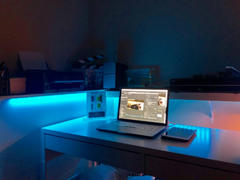 Really nice led strips perfect for my room!
I really like the LED strips. Very nice TONS of color options they work with sound as well which was a nice surprise. The power adapter was super light weight which actually caused me a little concern,but my son pointed out that LEDs require very little power and so this makes a lot of sense.Remote works well as well. I have had no issues with them since acquiring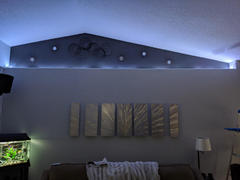 Amazing product
Loveeeeeeee these lights and will be ordering another. Amount of light is substantial and colors are great. Can sync up with phone to change with the beat of the music (a personal favorite for my toddler) and can even set alarms with the lighting. We have recessed crown mounding so they look amazing. Would definitely purchase again (and will be doing so for our son room and for under-cabinet lighting in our kitchen.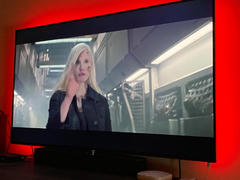 Bright and long lasting.
These are awesome bright lights. I was very pleased, works great. I did a lot of research and these met and exceeded my expectations.
Excellent product
Terrific product; arrived ready to use and has performed flawlessly.
you can connect them together.
when I was shopping for this item everyone said they are not connectable to each other. it actually came with 2 little parts that you can attach the strips together making them into one long strip. i just have to see how i can get 2 more of those parts to connect all 4 together. whats the name of that part? What I dont like about this and most other strip lights out there is that the cord from the controller to the beginning of the lights it too short. I haven't used the adhesive yet but its clear color.
Great product and excellent company
I purchased this lighting. During installation I found one of the light strips to be defective at the connection point. I reached out to the seller asking if they could send me just one replacement strip. They said, "Don't worry about the return process, we'll send you a whole new set." Sure enough, a new box set arrived that week. The lights are great, adhesion is strong enough to support the strip and the remote and sound feature is great for the kids. Overall, I'm very happy with the product and extremely happy with the seller's honesty and swiftness in correcting an error. Thank you!
Bright
I had an issue with the light but they help me and give me the opportunity to get a new ones. The lights are working good.
Looks amazing
Bought them for my granddaughters room. She absolutely loves them. We downloaded the app to control rather than use the remote since the receiver was put in a spot not easy to access. The lights dance to the music! Fairly easy to install, I put them where the wall meets the ceiling all the way around the room. Love them!