Description
Have you ever thought of bringing the Moon to your room? Here is the chance to have your own Levitating Moon Lamp inside your house. 
Galactic, relaxing and calming at the same time! 



Features:

Touch Control Switch

Fancy Wooden Base

3D Printed LED Moon Lamp

Suspended and Spinning Automatically in Mid-Air Freely

Cool Concept

Fancy and Unique Decoration

Perfect for Home, Office, Gift
Specification:
Diameter:
15 cm

Floating Distance:

15 mm

Light Color:

Cool White, Warm White, Yellow
Touch button:
ON/OFF
Power (W):
1.5W
Material:
PLA + ABS Wood
Net Weight(kg):
2 kg
Package Components:
1 x Base
1 x AC Adapter
1 x Moon lamp
1 x User Manual
Customer Reviews
Super Happy with this lamp!
This is a sensational lamp I have been using this for about two weeks now and I am still in awe about it. Electromagnetic induction helps the lamp stay afloat and it literally spins in mid- air. My Family and Friends are just shocked by this lamp and they have asked me tons of questions about it. Setting it up was a bit difficult as it is hard to get the right angle of the ball right, on top of the baseboard. But as soon as you get past the learning curve it is super easy. The lamp isn't dimmable which would be my only complaint as it is super bright, making it difficult to sleep at night. The 3D printed structure of the moon is well made and feel premium with its weight, I would definitely recommend this as a gift to a friend or loved. Overall super impressed!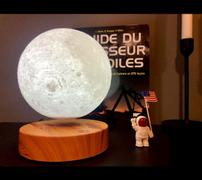 Perfect!
So far, so good, I would definitely recommend them!
Outstanding product.
I am very happy with this product.
100% recommended
AMAZING CUSTOMER SERVICE, FANTASTIC PRODUCT AND FAST SHIPPING!!!
Better than expected
Great!!
very happy on that
definitely made a returning customer out of me and I endorse them to all of my friends and family.
High quality...I'm pleased
This is exactly what I was looking for
Great Product Great Price
Loved This Product, Excellent Quality!