Description
Adjustable Silver Branches:

Adjust the shape of the spirit tree lights easily, make an ideal natural tree shape


IMPORTANT:
"Please remove the USB cable when using batteries, or it will not light up!"
Upgraded Warpage:
Features:
DIY shapes

No cords Limited

Elegant glowing fit for decorating any places

Perfect for Gift

3 x AA Battery Operated or USB Cable Charger
Specifications:
| Product Height: | 45cm |
| --- | --- |
| Product Weight: | 360g |
| Battery: | 3*AA / USB |
| Package Components" | 1 x LED Spirit Tree Light |
Customer Reviews
Perfect soft light for hallway table
I really wanted a light for a hallway table to give a nice, soft light for at night. I got used to having the light from the Christmas tree and I missed that when it was taken down. I ordered this bonsai tree and I have been very happy with it. Initially I thought it was too small, but when I opened the branches up it was perfect! Its an inexpensive light but that is exactly what I wanted. I would buy again.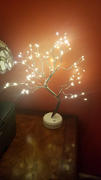 Looks just like the picture!
I got this for someone as a secret santa gift who asked for anything whimsical and she LOVED it! It was very lightweight so I was a little concerned that it was kind of cheap but it really is gorgeous. You can also adjust the branches however you like. It's also quite bright so I wouldn't totally recommend this as a night light for a small room.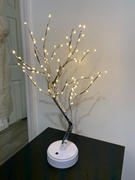 Beautiful alternative to candlelight effect.
I love it. I was scared it wood look tacky but it really doesnt, well depends on your taste I guess. I wanted something akin to candlelight and this was perfect. I always keep it plugged so not sure about battery life bit I definitely find its good value for the price.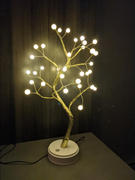 this works good
going to buy one more for my cousin
Good value
it looks like a really good product!
NICE
It really works as advertised. Worth it
so far so good
thats good will buy more
nice customer service
Customer service is great will buy more
Love these
love them just as shown
Nice
It has a cheap price but does a good job
Love these
love them just as shown
good quality
excellent product