Description


Neon sign night light is the ideal eye catching
addition to your party or home table, with the
comfortable warm light , a wonderful neon art light
to replace the boring desk lamp and add color to
the darkest room.


Specifications:
| Item Weight: | 10.4 ounces |
| --- | --- |
| Package Dimensions: | 10.5 x 7 x 1.6 inches |
| Power Source: | USB / Battery-Powered |
| Battery Included? | No |
| Type of Bulb: | LED / NEON |
| Package Components: | 1 x LED Decorative Moon Neon Light |
Customer Reviews
Cute light (cat approved)
This product is exactly as described. I purchased the moon for my room. Ive used it for almost two months now, and Ive only had to change the batteries once. A USB cord is provided if you'd rather turn it on that way, than with batteries. The light it gives off is pretty bright given the size of it. My cat also likes it .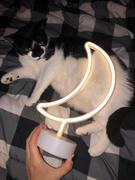 Repeat purchase!
Its really nice when a product lives up to expectation, especially when it is an inexpensive product.
Very great
it looks like a really good product!
this works good
It really works as advertised. Worth it
Looks exactly like a neon light!
I am so impressed by this cheap little light. I didn't expect much for the price but this thing puts out a lot of light. It looks exactly like a much more expensive neon light. Hard to believe it puts this much light out from a little USB port. Mine is not wobbly at all. You have to firmly snap in the light to the base. Once you do that, it is a solid setup. I'm going to buy the flamingo next. Can't beat the price! My kids love it. Makes a great night light.
nice customer service
Great product with a great price
Very good light
Purchased for a party decoration. I was scared that it was messed up when trying to put together but it does require a little force. Was able to get it in and it works. Light is bright so it's perfect.
love it!
Great product at a great price
Nice
These lights are pretty bright for what they are. Decent quality for the price. They put out a nice warm light. I'd probably buy again.
Great product
This is my second time purchase. My first purchase was an year ago. They works so great, So I got this new one. So far it works great.
Look great!
They were easy to install and they look great! They are very bright, ideal for their purpose as demostrating lights.
Nice!
These lights are great and work beautifully. Easy to install and very bright but not too much.
Works well
Exactly as described and the work great!
great product
love them just as shown
so far so good
It has a cheap price but does a good job
Beautiful lights that are soft and subtle
Just beautiful!! Exactly what we were looking for!