Description
Ever thought of being safe in the dark can also bring class?
Our bright solar spot lights provides light for your garden and outdoor stairs at night while staying Eco-Friendly.

 | Garden | Waterproof |
Features:

Available in White and Warm White

Water-Proof IP65

Perfect for lighting your Patio and Garden

Safe environment and Brighten your pathway
Specifications:
| Water Proof Level: | IP65 |
| --- | --- |
| Battery: | 600mAh |
| Working Time: | 8-10 hours |
| Charging Time: | 8-10 hours |
| Size: | 11.5*12.6cm |
| Color: | White, Warm White |
| Power: | 3Watt |
| Function: | Auto ON/OFF |
| Package Components: | 4 x Solar Light Spot Solar Lamp |
Customer Reviews
The shopping experience is very good
The product is good. In my yard, I installed it after it arrived. The effect is very good. It looks very good. I took several pictures. At night, my children can play in the yard without fear of the dark. The shopping experience is very good. I suggest you buy it.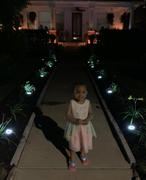 My little weakness :)
Super, always dreamed of such a decor for his yard. Lamps are inserted into the ground without problems, do not spoil from the rain. Reliable. Glass is very durable. I decorated my entire yard with these lamps of incredible beauty and comfort. I would buy even more if they looked appropriate. And so the whole yard is in these lamps. At night, you can clearly see what is happening in your yard. And guests like my cozy courtyard. I would never have thought it was that simple. The switches are reliable, nothing breaks. You are best.
Brightens up the pathways for sure.
Excellent product They light up my pathway to my house as well as my driveway. They're bright enough and small enough to not look to bulky. I will be buying another set for my dad's driveway to light up a bit more now that I see how nice and bright they look on the ground.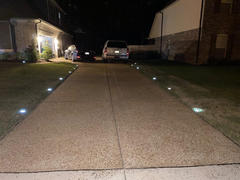 Great product, stays bright
This is my second order, so the review is the same. These lights stayed lit all night long, and were still shining bright at 7:00 a.m. Very nice soft white color, easy to install. Update- 12 lights are plenty for a large area, but we have a very large yard, so two packs covered a lot of garden beds. The lights shine up and light foliage nearby for a nice, classy effect.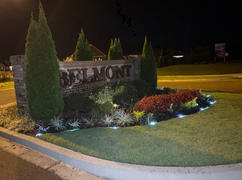 Really nice product, great value.
These lights really made a statement in my front yard. You get 12 in the pack which is more than enough for an average size front yard. Very pleased with the purchase. Per instructions I put them out in the direct sun, switched on position and then installed in locations in early evening. Once the sun when down I was really pleased with the awesome effect.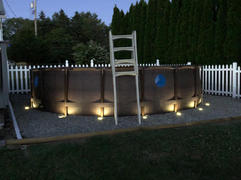 Saving money + low maintenance + effective = Im impressed!
There are shockingly simple to use. You literally turn the on switch and put them in the sun! They are bright like everyone said and perfect for lining a walk way. They dont give off enough light to actually light up a space, although my 2 year old has been using one as a nightlight since we got these lol. It also is a great feeling knowing that they arent using any batteries, just the sun AND they go on automically when it gets dark. Saving money + low maintenance + effective = Im impressed!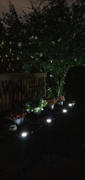 Great!
I'm a bit of a tree-hugger and love the green initiatives in lighting and other household products. These solar lights are great for a few reasons. The first is of course completely solar powered! No batteries, no chords and no hassles. They can be places anywhere that you get at lease a few hours of sunshine a day. I also love the low profile of the lights, they are slightly above ground level which gives a nice finished look to your landscaping. And since they are LED, they are bright, real bright!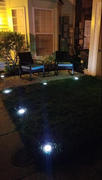 Bright and perfect for front of house
These are a great way to add exterior lighting without the expense and trouble if having to dig and install low voltage wiring, power supply and timers. They hold their charge and run from disk till darn with enough light to illuminated a small area. We have these in our garden, under our flag to illuminated it at night and along our back fence. Easy to use, just turn them on and place them where you want them. Nothing else to bother with, once the sun goes down they turn on and when the sun comes up they turn off and recharge. Place them and enjoy them. Easy peasy.
really great
Great product with a great price
well packaged
Love them. i was surprised on how nice they were
good quality
Great product at a great price