Description
Care for the light, Care for your eyes.
Our Dimmable Eye-Caring Desk Lamp can provide Wireless Charger, 3 Brightness Levels & 3 Lighting Modes, makes it one of the best dimmable desk lamp and best desk lamps for eyes.
Desk lamp with dimmer switch.
Features:
Wireless Charger

USB Cable Charger

Touch Control

5 Lighting Modes

5 dimming brightness
Specifications:

| Material: | Aluminum + ABS |
| --- | --- |
| Size: | 39*3*10.8cm |
| Weight: | 760g |
| Color: | Silver, Black |
| Package Components: | 1 x Dimmable Eye-Caring Desk Lamp |
Customer Reviews
Great Desk Light
Bought this light to give my lucky bamboo plant some supplemental light as the overhead florescent lights at my desk are not bright enough and I don't have any windows in my office. I love that the head extends past the normal 90 degrees to a full straight up and down and allows me to shine the full plant. The light column also swivels to the right and left of the base so it give more range for adjustment. The brightness setting is great as well as the 5 color temperature choices. Only negative is the timer feature as you can only choose 30 min and 1 hour. Would be nice to have a longer timer and auto on off feature. Hopefully this will work for my little plant and make it start growing again!!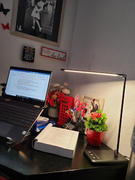 Very soothing light...
If you are hesitant or not sure if its worth getting this lamp, all I have to say is get it. Not only is it very versatile, being able to charge my phone with it, rechargeable, portable, being able to change the color lights, and to touchscreen buttons. This product is amazing. I use this light when I teach online and it works way better than the ring I light I purchase. I loved it so much that I just bought another one. You won't regret it. The lamp itself its beautiful design, firm, and well made.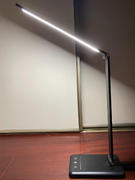 Great Product Oct. 2020
This light is great, I like the backup battery it has built in in case the power goes out at my house. This is able to rotate in different directions and I also like the five modes of light it has from 3000k - 6000k. I also like the additional USB port on the back so that you can connect an additional item like phone charger. I am able to dim the light very easily and set a 30 or 60 minute shut off timer. The light is also very sturdy and feels like an aluminum type of material, so it is very well built. Compared to other I have seen in person this is a must buy especially for the price.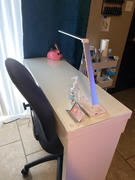 Great lamp for late night work
This is a great little desk lamp. The modern design is really nice, and it folds up to nearly flat. The touch control base is easy to use, and the color range is really nice for a bedside lamp or for working at night. The instructions dont mention some of the function and are a little hard to understand, but the lamp is so intuitive and easy to use that it doesn't matter much. Highly recommend for working late!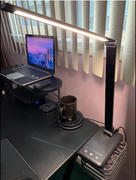 Good product
Great product at a great price
Nice lamp!
I wish this lamp came with a charging block, otherwise this is a great lamp! Trendy, portable and i absolutely love how adjustable the settings are!
would recommend
very good! love it
Nice Product!
Thanks it works great
like this so much i bought two
Very high quality
Lightweight, cute and easy to use
Great inexpensive product perfect
Love it.
Very high quality
Bright!
Great inexpensive product perfect
great product!
Very easy to install and deliver superior lighting! I will purchase this product again. In fact this is the second time I have purchased this light!!!