Description
This water-resistant lantern features a carrying handle and hanging hook so you can hang it from a tent, carry it with you, or stand it on a flat surface. It is ideal for camping, hiking, auto repair jobs, or to add to home emergency kits.

Features:
5 ways to charge: Solar power, USB Power(Chargeable Battery), Crank Dynamo(Chargeable Battery), 3xAAA battery, Car Cigarette Lighter Plug Power(Chargeable Battery)

Plastic and ABS Material

Multifunctional

Durable
Specification:
| Battery: | 3*AAA Battery |
| --- | --- |
| Weight: | 850g |
| Size: | 7.5*25.5*10.5cm |
| Material: | Plastic, ABS |
| Package Components: | 1 x Functional Lantern |
Customer Reviews
Performed well in testing
when I received the item, I immediately tested it. First I charged it and let the lantern run from 7pm to 2am when I went to bed. It performed well. After letting it completely discharge I charged it in the sun for 11 hours. I let it run from 7pm to midnight and again it performed well.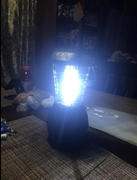 AGPTECK SOLAR LANTERN
What is there not to love ?? The versatility of charging options are fantastic !!! I live in Texas where the weather here is very unpredictable and very aggressive furthermore the light are constantly going out at my house. The Rechargeable Lantern have been a great help by keeping me out of the dark . When Lantern is out of power I just use the hand crank (My favorite) for a few minutes and it gives me 20-30 min of power using medium light or usb cord on computer to charge, solar and rechargeable batteries. I feel much safer using this lantern during power outages as opposed to candles . I highly recommend !!!!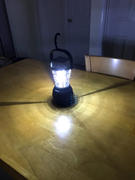 Bright enough to light a room
Lost power last night and this latern was bright enough for a room. I also own the accordion type solar latern suaoki) and the small gold metal ones (GT road). This was the brightest. But it is also a full sized latern. The others are small, compact and easy to store. The gold GT Road were second brightest (perfect to light bathrooms, halls, small tent). I had charged it months ago at the start of hurricane season, and it was still charged. I cant say how long it lasts, I only used for 4 hours. But the brightness was so good I am buying another.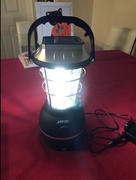 Realy good lantern
Definitely works great. Last over 20 hours on low setting. I had to use it for a few hours win the power went out for a lightning storm that knock out power . I had not had my phone charged up so I used the usb charger on the Lantern to charge my phone charged it right up and still had power to go though till the power came back on the Lantern is really bright on high setting and low setting was pretty good can still see around the room on low setting . I truly like this Lantern so I ordered a second one . And my mom also ordered one thats how impressed she was over this Lantern win I showed her.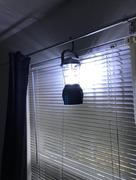 NICE
arrived in good condition
Works well
nothing to dislike
so far so good
excellent product
Recommended
its worth buying
Great
Its just beautiful my baby love it
Nice product
Recommended, fast shipping and great quality and communication. Thank you