Description
Solar outdoor step lights mounts along any edge no need for messy wires 
Don't become a bump in the night !

Features:
Powered by the sun, built-in photo sensor automatically turns on the lights at night

Easy Installation

Weatherproof

Great and Simple Deck Lighting

Solar-Powered

Charging time 5-6 hours

Working time 6-8 hours
Specification:
Item Weight:

1.43 pounds




Dimensions:

3.14 x 1.77 x 1.73 inches

Heights:

1.73 inches

Length:

3.14 inches

Width:

1.77 inches

Color:

Bronze

Blade Color:

Brown

Material:

Plastic

No. Lights

4

Voltage:

1.2 Volts

Power Source:

Solar-Powered

Type of Bulb:

LED

Luminous Flux:

3 Lumen

Wattage:

0.12 Watts

Package Components:

4 x Solar-Powered Outdoor Step Lights
4 x Glue
1 x Manual
Customer Reviews
Great for upgrading your deck in style and safety!
I got this set to take with me when I visit my wifes home in Boston where they have a front and back deck. But decided to install a few around my backyard to see how well they work ...and I might end up keeping this set for myself and ordering them another set lol. I installed these on my backyard fence on both sides of the house where there isnt much light and these little guys light up promptly at dusk. I also installed one by our backyard gate so if I need to check the lock at night, I dont need to take a flashlight anymore. These arent super bright - instead it is more of a warm light to help you navigate in the dark and great to ensure you dont miss your step when walking up or down to a deck. They ve withstood heavy rain a couple times the last week so they are clearly durable. Next durability check will be the snow in Boston. Cant wait to install these on their deck next month!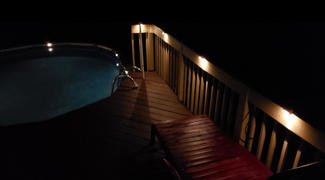 Overall satisfied
I bought these lights for lighting up my fence line(privacy fence). They were super easy to install, my 9 year old nephew even installed a few after showing him once. They're perfect for what I wanted, quick charge as I had just about 2 hours left before sunset, but they still are on now. If you're looking for a super bright light, i would recommend you look for a different light. This is a nice light, but it's a subtle light that would work great for staircases, walk ways, or like what i used them for.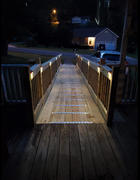 Good buy
Really liked the easy to install lights for the deck and the house entrance. I used them to put on the brick steps at the home entrance and the deck walls. I was very impressed with the the sticker provided for the installation. I didnt use the nails but may use them if the stickers come off. The brightness is good and provides good light and gives a good uplift to our deck and front of the house. Recommended for people looking to buy solar lights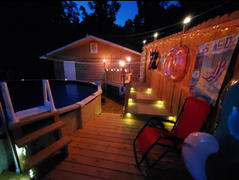 I was impressed
They were smaller than I initially thought, (check specs) and came tightly packed in a small box, but I do have to say great addition to the deck. I have a walkway off the side of my deck where there is no lighting. I put a half dozen or so of these by the steps and a couple on the railling. I am extremely happy with the light these emit, not so much where its distracting but enough where people can see where they are going and to give off a nice ambiance. Currently looking for more places and uses for these. Would buy again if I needed more.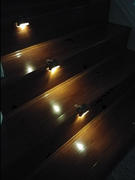 Glowing Softly into the Night!!
These are great! they were much smaller than I expected, but they installed easily and worked right from the first night, even though we installed them on a cloudy day! I have an old dog with cataracts who wouldnt go down the deck steps at night without me walking him down with a flashlight. It was so gratifying to see him run to the deck stairs and just glide on down that first night! Makes it nice for when we have people over for the fire pit too we dont have to leave the floodlights on to take away from the ambiance! I gave the longevity a 4 for now just because we havent had them for very long and I dont know. I'll readdress this in a year.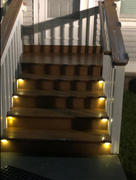 Easy to install
We bought these to go on our pier. We just stuck them on the wood railings and they seemed like they were very secure. Some of them came off with Hurricane Isaias but most of them stayed. They are not as bright as the more expensive ones we bought at Lowe but they provide enough lighting to look good & although we have them several feet apart we can see good enough to find our way out to the end. They are a good value for the money.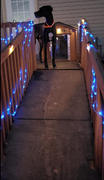 Inexpensive and nice looking.
I bought these to help light a new 32 foot handicapped ramp at my home. I was surprised by how tiny they were but as it turned out, they are just right for my application. I used 12 out of the 16 pack and this photo is the first night after charging in the sun all day long. By 6 am next morning, they lost about 40 percent of their brightness but still make the ramp safer to use. After using for 3 weeks now, I had to replace one light that flickered and sometimes didtt come on at dusk but am extremely pleased with them overall. Having the 4 spares was convenient just in case. I got the results I wanted and would definitely buy their product again if need be.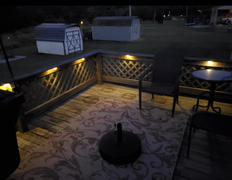 Nice lights
Lights work well. Easy to install. Happy with purchase.
Love these lights
The lights are really nice and look great on our patio. Three lights stopped working about a month after installation. The people were so easy to work with and are sending replacements, no charges and no postage. I would definitely buy from them again.
Easy to install
Love them.
Good buy
Just installed these. They look great.
Great Ambiance!
Loved these little lights - color matched my deck perfectly! Very easy to install and gives a beautiful downward glow. Lights work all during the nighttime hours when sun is out all day to charge the solar power. Very happy with these little lights!
Very easy to install.
I did not put mine on the stairs, I put them on the railings, and so far they work great. Not sure they would take being stepped on too much. The location gets a good amount of daily sunshine, so I am eager to see how they last. They turn on appropriately at dusk, within minutes of a much more expensive photo cell I also have that controls other items.
Great product and very easy to install.
These work great , not expensive and VERY easy to install. I think it took us like 20 min tops to install them. It��s the perfect amount of light