Description
DIY this LED Twig Lights where branches are bendable, adjust them, make them twist, and pull them up or down to create your own natural look.
Features:
Perfect for vase or some other base,

Bendable Twigs,

Indoor / Outdoor Decorations,

DIY Crafting,

Safe and Easy Use,

Show the creativity and vitality of nature beauty with the cute size, appearance, easy assembly and free bending.
Specifications:
| Size: | 20 inch |
| --- | --- |
| Branch Type: | Artificial Branches |
| Power: | 2 AA Batteries (Batteries Not Included) |
| Lighting Color: | Cool White |
| Products Color: | Brown |
| Product Material: | Soft Iron Wire, Brown Tape, LED Lights |
| Product Components: | 2 x Sets LED Twig Lights (Total of 10 Twigs with 40 Warm-White LEDs) |
Customer Reviews
amazing decoration for lovely home
The moment I turned on the branch lights, I was deeply impressed. It is gorgeous. I positioned it near my mirror and they are perfect fit. Details of this product are excellent. I would recommend you to buy it if you want to improve the atmosphere of your house. Since I love this so much, I purchased another version from the same seller. Overall, it is worth it!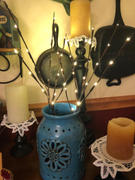 Absolutely love!!!!
I absolutely love my new lights!!! I purchased 3 packs of them. They are warm white and they are very bright. I used all of mine as decorations inside of my gazebo. Some of them are inside real plants, which have been watered without removing the lights. The lights got wet & still worked. No, these are not waterproof but Im guessing they can take a small bit of water on them as long as the battery box isnt submerged in water. Mine still work just fine!!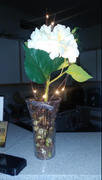 Excellent
These are quite beautiful. Am happy with purchase. Would purchase again.
I totally love this lights.
I purchased this lights about 6 weeks ago to replace my old ones that stopped working, this ones are a bit smaller, but the brightness is greater,. I love it, I used them instead of a regular table lamp.
Really nice
These twigs are really nice. I put them in a tall vase with fall flowers, and they make the arrangement stunning.
Wow so brite
These are beautiful. I just ordered another set. Wow, no more batteries. I love that. I would really suggest these. Brute and beautiful
Beautiful Lights!
I loved the lights on these twigs! Warm, yellow light makes this arrangement suitable as a night light at night. I also liked the flexibility of the twigs so I could position them like I wanted. Very nice product!
Great value
There exactly what my space needed.