Description
Create an inviting environment for your backyard. Easy to stick on your lawn and weather-resistant, suitable for outdoor use, do not worry about rain, snow, frost or sleet. Easy to install, No Wires!
Important Note: Before use, make sure to set the ON/OFF Switch into ON position. It is located underneath the solar panel.
Features:
Two Installation modes

Perfect Decoration

Easy to set up

Made from Polypropylene

Charges 8 hours in direct sun

Last for 7-8 after absorbing direct sunlight

Eco-Friendly

Durable

Weatherproof

Waterproof
Specification:

| Light Color: | Warm White |
| --- | --- |
| LED Quantity: | 8 LED |
| Rechargeable Battery: | AAA Ni-MH Battery |
| Dimensions: | 2.32 x 2.32 x 11 inch (L x W x H) |
| Charging Time: | 6 - 8 hours ( When getting enough sunlight) |
| Working Time: | 8 - 10 hours |
| Package Components: | 2 x Solar-Powered Vintage Garden Lamp |
Customer Reviews
HIGHLY RECOMMEND
These cheap plastic lights are just cool and don't LOOK cheap! I've had mine for a year now and only on rare occasions do I have to take one apart and play with the light to re-seat it. I really do recommend these, and I'd definitely buy them for someone else. I'm ordering another set. AAAAA+++++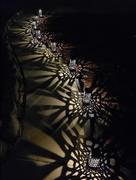 Survived a Hurricane
I left a review earlier because I really like the lights and they look nice. An update to that: they survived Hurricane Irma. They were strewn all over my lawn in parts and pieces and I put them all back together and pulled them out of the mud and muck and every single one of them still works. So, I bought more to give to friends/family.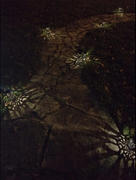 11/29/2020
Alexandrine T.
So in love with these lights
So in love with these lights. I have the regular solar lights on the pole in my front yard but I got these to go in the back and lead a path to my garden and sitting area. They are beautiful! My kids like to just come out at night to see the light show. They were super easy to put up took more time figuring placement than actually putting the lights down. I definitely want more to put around my backyard and maybe in some pots on my deck as they give off just the right amount of light.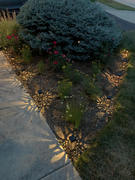 Classy Solar Look
Great looking, classy lights. We had a rocky start. When I placed them along my sidewalk I was excited to see them when I came home from the late shift. They weren't on. We have a huge street light in front, so I assumed that light was too bright for the solars. After a few days of rainy weather I put them on a neighbor's front yard who doesn't have a street light. Looked out after dusk, still no light. So I went down & grabbed one. Checked it out more thoroughly, there is an on/off switch inside - BINGO. This is NOT in the instructions. I still don't think they would be effective with our street light, but my neighbor loves them. I still may order another set, because we live in hurricane country. These guys are perpendicular, meaning you could leave them outside all day, then if the power's out, they will stand on their own, anywhere you place them. Good product. They really do look classy in the right place.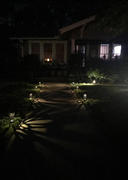 Love these lights
Love these lights. I bought one box to see if they worked and how they really looked and loved them so much I immediately bought a second box. They light up very strong and the pattern is so pretty! I have gotten a ton of compliments on these already! They are especially impressive near the sidewalk/driveway - the pattern shows up better than against the edge of the lawn - but it still looks nice there too! i would highly recommend these lights!!!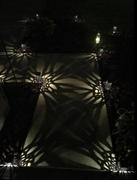 it doesn't let me down
it looks like a really good product!
Great product
Its just beautiful my baby love it
Bright!
Thanks it works great
Amazing !totally worth it
fast shipping and the product is good