Description
Nice design and decorative light: Warm White / 7 changing color lighting.it gives off a great design below the light due to the honey-comb type cut in the plastic cover.

Features:
Perfect Design for Modern Home
Waterproof IP65 & Heatproof
High efficiency, heal the world being Eco-Friendly while being stylish
Specifications:
Color Mode:
Warm White and Multi Color
Size Per Piece:
2.56in x 3.15in x 1.02in
Weight:
4pcs: ~

640G


6pcs: ~

950G

Material:
ABS + PS
Waterproof Level:
IP65
Working Time:
8-10 Hours when fully charged
Package Component:
1x 4 pcs of Solar Powered Deck Light
or
1x 6pcs of Solar Powered Deck Light
Customer Reviews
04/15/2021
David G. Bories
These lights are cuter than I thought they would be!
Although these lights are a little pricey I really like them and will be ordering some more. They brighten up and add a little pizazz to my deck. I hope they last for a while and that I don't have future problems with them like some of the other reviewers. I've had them up for a week and so far so good!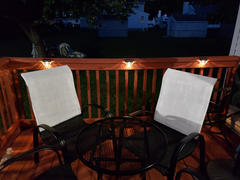 Very Good Quality Lights
So far so good as I have had them a few months and they are working good. Im always skeptical of solar lights but these have been very good.
Love these
We have four of these. Two are inside of lamps that we have on the patio. Two are strung on poles across that backyard. Are backyard is extremely dark at night. They are not bright but provide ambience and make it easier to see and serve as a visual border.
12/01/2020
Scott B. Anderson
Great solar lights
Ordered one set and the were perfect for what we needed! Ordered another set to expand to another area. Still need a few more.
Stay on all night and are bright!
These lights are so awesome we ordered more for our yard and pool! They come on at night and recharge the next day and are very bright. We love them!
Very bright
These lights are a good solar product. No issues, secure packaging. Great for outdoor landscape.
Beautiful appearance, energy saving and environmental protection
This decorative light is very good, put in the yard of the home, it is solar energy, very environmentally friendly, do not need to be connected to the power, absorb solar energy during the day, can be lit at night, very easy to use.The light is also very perfect, the appearance is also beautiful, a very good decorative light, put at home there can be, especially beautiful, recommend everyone to buy, really very good, very like.